Filter by Category
Arts & Crafts
Pottery Paint Night - Spring Flower Plates
with Michelle Gibbert

Mar 12, 2019 at 6 pm
A one night class where you will "paint" a watercolor design plate! All materials, templates, and instructions are provided.Plates (dishwasher and microwave safe) will be glazed, fired and can be picked up one week later.
$10 material fee paid to instructor.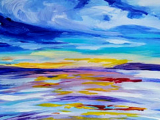 Splash of Color
with Jeannette Whitman

Feb 5, 2019 at 6 pm

, runs for 4 weeks
Discover the unique qualities of acrylic paint and experiment with a variety of landscape painting techniques. Use your favorite photograph and explore color mixing, brush strokes and how to build a strong composition. Please bring several photographs to class with you.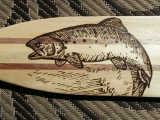 The Art of Wood Burning
with Georgette Kanach

May 4, 2019 at 12 pm

, runs for 1 week
Use simple wood burning tools and easy-to-learn techniques to help you add distinctive designs to an all-wood canoe paddle. Emerge from this class with a beautiful piece of art and a valuable skill to apply to an array of projects for years to come.
$50 material fee paid to instructor (includes wood burner and a full size canoe paddle)