Filter by Category
Exercise & Outdoor Fun
Elementary Nordic Ski Program

Feb 3, 2019 at 2 pm

, runs for 5 weeks
NEW - OPEN for anyone GRADES 4-6th!
Introduce your elementary student (grades 4-6) to Nordic skiing. Leavitt Area High School Coach Williamson and Tripp Middle School Coach Webber will be organizing this fun activity with help from the Leavitt Area High School Nordic Ski team members. It's a great way to make winter speed by - Parents are welcome!
Ski equipment rentals will be available, thanks to the Outdoor Sports Institute, at a cost of $60 for the season and includes boots, poles and skis. You must sign up for rental equipment by November 30th.
Weekly sessions will be held from 2-4 p.m. at Leavitt Area High School on the following Sundays - 2/3, 2/10, 2/24, 3/3 and 3/10/19.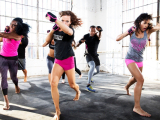 Piloxing
with Bonnie Honaker

Oct 1, 2018 at 6:30 pm
Get in shape in this 8 week session, by unleasing your inner Rocky while feeling like you're in a scene from Flashdance! This workour combines moves from Pilates and boxing so it's both fat-burning and body sculpting. Barefoot, yoga socks or sneakers are fine. Please bring a mat.
$5 drop in fee per class.
No class on Oct. 8 or Nov. 12.
Zumba
with Bonnie Honaker

Oct 3, 2018 at 6:30 pm
Ditch the workout and join the party! In this 8 week session, you will learn one-of-a-kind fitness moves with easy-to-follow dance steps. You will tone and scupt your body, burn calories and re-energize while having FUN! All fitness levels are welcome, the moves are easily modified to meet your need.
$5 Drop In Fee per class.
No class on November 21.