Filter by Category
Kids Camps & Classes
Online Registration Unavailable
Hornets Summer Track
with Jamie Juntura

Feb 25, 2020 at 5:30 pm
Get outside! Campers will develop new skills, participate in meets and have a blast! Emphasis will be placed on technique and performance in different areas (ie. sprints, distance runs, relays, hurdles, long and triple jump, high jump, shot put, race walk and javelin).
Fees include league fees, USATF Registration, T-Shirt and Water Bottle
We are looking at creative ways to revamp this camp.....more details and information to come!! Please stay tuned!!
Practice Times: TUESDAY
Ages 10 and Under: 5:30-6:30pm
(Youngest age should be 6 without permission).
Ages 11 and Up: 6:30-8pm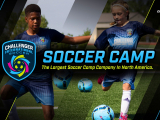 Registration Unavailable
Challenger Sports British Soccer Camp
Price not
available
with Johnny Vieria

Jul 13, 2020 at 8 am

, runs for 1 week
Challenger International Soccer Camp Summer 2020! 7/13-7/17
THREE SESSIONS TO CHOOSE FROM
Little Tikes AGES 3-5 8-9am $69
Half Day Program AGES 6-14 9am-12pm $142
Full Day Program AGES 7-14 9am-3pm $205
Challenger Sports, the leading soccer camp company in North America, has combined the most popular elements of their two existing industry-leading camp programs, British Soccer and TetraBrazil, integrating them into a collection of the most effective soccer practices used by youth teams around the world.
The Challenger International Soccer Camp reflects the truly global nature of the sport today and provides young players with a wide variety of coaching styles, practices, and influences that will help them develop a well-rounded skill set.
We have taken the best coaching methodologies and practices from England, Brazil, Spain, USA and France and have woven them together in a multi-faceted on and off-field coaching experience.
Most camps will include a free soccer ball, T-shirt, Poster and Certificate, as well as a free early registration replica jersey- please check your individual sessions upon registration.
Registering is SUPER EASY...simply click on this link:
https://challenger.configio.com/pd/205756/msad-52-adult-and-community-education