Filter by Category
Health & Wellness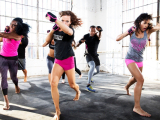 Piloxing
with Bonnie Honaker

Oct 1, 2018 at 6:30 pm
Get in shape in this 8 week session, by unleasing your inner Rocky while feeling like you're in a scene from Flashdance! This workour combines moves from Pilates and boxing so it's both fat-burning and body sculpting. Barefoot, yoga socks or sneakers are fine. Please bring a mat.
$5 drop in fee per class.
No class on Oct. 8 or Nov. 12.
Zumba
with Bonnie Honaker

Oct 3, 2018 at 6:30 pm
Ditch the workout and join the party! In this 8 week session, you will learn one-of-a-kind fitness moves with easy-to-follow dance steps. You will tone and scupt your body, burn calories and re-energize while having FUN! All fitness levels are welcome, the moves are easily modified to meet your need.
$5 Drop In Fee per class.
No class on November 21.