Filter by Category
Health & Wellness
ONLINE Piloxing Summer Session
with Bonnie Honaker

Jun 1, 2020 at 6 pm

, runs for 6 weeks
That's right, PILOXING is coming to your living room with our new VIRTUAL Piloxing class!! No need to wake up early, travel or even leave your house - because we are saving you some cash and coming to YOU.
We are here to offer you the best workout from the comfort of home and yes, that means you need a computer with a camera and audio, and the old trusty WI-FI.
Once you register you will receive a ZOOM link via email.
Will run
Virtual Zumba
with Bonnie Honaker

Jun 3, 2020 at 6 pm

, runs for 6 weeks
ZUMBA takes the "work" out of workout, by mixing low-intensity and high-intensity moves for an interval style, calorie burning dance fitness party.
Bonnie is back and offering a virtual Zumba SUMMER session that you can attend from the comfort of your own living room! 
A zoom link will be sent to you once you are registered.
Will run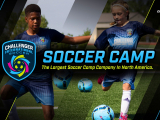 Registration Unavailable
Challenger Sports British Soccer Camp
Price not
available
with Johnny Vieria

Jul 13, 2020 at 8 am

, runs for 1 week
Challenger International Soccer Camp Summer 2020! 7/13-7/17
THREE SESSIONS TO CHOOSE FROM
Little Tikes AGES 3-5 8-9am $69
Half Day Program AGES 6-14 9am-12pm $142
Full Day Program AGES 7-14 9am-3pm $205
Challenger Sports, the leading soccer camp company in North America, has combined the most popular elements of their two existing industry-leading camp programs, British Soccer and TetraBrazil, integrating them into a collection of the most effective soccer practices used by youth teams around the world.
The Challenger International Soccer Camp reflects the truly global nature of the sport today and provides young players with a wide variety of coaching styles, practices, and influences that will help them develop a well-rounded skill set.
We have taken the best coaching methodologies and practices from England, Brazil, Spain, USA and France and have woven them together in a multi-faceted on and off-field coaching experience.
Most camps will include a free soccer ball, T-shirt, Poster and Certificate, as well as a free early registration replica jersey- please check your individual sessions upon registration.
Registering is SUPER EASY...simply click on this link:
https://challenger.configio.com/pd/205756/msad-52-adult-and-community-education