Filter by Category
Personal Finance
College: Getting there from here
with Jim Flagg

Dec 5, 2018 at 6 pm
Discussions will include establishing a college savings goal, strategies to help achieve the goal and the features and benefits of a 529 savings plan.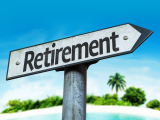 What Happens After the Paychecks Stop? A Retirement Income Primer
with Jim Flagg

Oct 24, 2018 at 5:30 pm
Examine how to budget for retirement expenses, potential sources of retirement income and potential risks such as Long Term Care and health care costs.